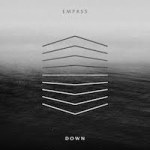 I am still digging this Emprss tune a month later.
Ralph Allan's vocals are perfectly matched by the production techniques employed by Leo Crossing and Johnny Goddard. There's a soundtrack quality to "Down", which is the single teasing the 2015 Empress album.
A chase scene, an opening or closing theme…the beats and rhythms form a brooding juggernaut that invites Allan's pained delivery of equally dark lyrics.